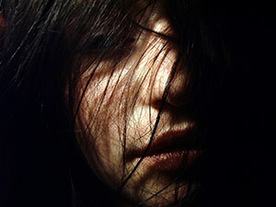 From the suburban Chicago Daily Herald, 4/1/2014
Girl face hair 300SACATON, Ariz. — The tamarisk tree down the dirt road from Tyler Owens's house is the one where the teenage girl who lived across the road hanged herself. Don't climb it, don't touch it, admonished Owens's grandmother when Tyler, now 18, was younger. There are other taboo markers around the Gila River Indian reservation — eight young people committed suicide here over the course of a single year.
"We're not really open to conversation about suicide," Owens said. "It's kind of like a private matter, a sensitive topic. If a suicide happens, you're there for the family. Then after that, it's kind of just, like, left alone."
Advertisement
But the silence that has shrouded suicide in Indian country is being pierced by growing alarm at the sheer number of young Native Americans taking their own lives — more than three times the national average, and up to 10 times on some reservations.
A toxic collection of pathologies — poverty, unemployment, domestic violence, sexual assault, alcoholism and drug addiction — has seeped into the lives of young people among the nation's 566 tribes. Reversing their crushing hopelessness, Indian experts say, is one of the biggest challenges for these communities.
"The circumstances are absolutely dire for Indian children," said Theresa Pouley, the chief judge of the Tulalip Tribal Court in Washington state and a member of the Indian Law and Order Commission.
Pouley fluently recites statistics in a weary refrain: "One-quarter of Indian children live in poverty, versus 13 percent in the United States. They graduate high school at a rate 17percent lower than the national average. Their substance-abuse rates are higher. They're twice as likely as any other race to die before the age of 24. They have a 2.3 percent higher rate of exposure to trauma. They have two times the rate of abuse and neglect. Their experience with post-traumatic stress disorder rivals the rates of returning veterans from Afghanistan."
In one of the broadest studies of its kind, the Justice Department recently created a national task force to examine the violence and its impact on American Indian and Alaska Native children, part of an effort to reduce the number of Native American youth in the criminal justice system. The level of suicide has startled some task force officials, who consider the epidemic another outcome of what they see as pervasive despair.
Last month, the task force held a hearing on the reservation of the Salt River Pima-Maricopa Indian Community in Scottsdale, Ariz. During their visit, Associate Attorney General Tony West, the third-highest-ranking Justice Department official, and task force members drove to Sacaton, about 30 miles south of Phoenix, and met with Owens and 14 other teenagers.
"How many of you know a young person who has taken their life?" the task force's co-chairman asked. All 15 raised their hands.
"That floored me," West said.