THE 2011 NATIVE ALL STARS CLASSIC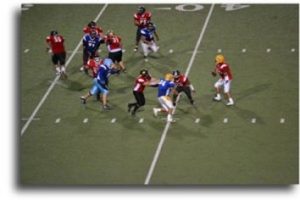 The Native All-Star game was played on Saturday, July 9, 2011, in Denton, TX at the University of North Texas. Our sincere thanks to President Rawlins, Dr. Gilda Garcia, and Dr. Jonathan Hook who helped us get this event brought to Texas.  Many Ha-Hos to our corporate sponsors and to the tribes who stepped up and helped out.  A big shout out to Burlington Northern and Cherie Gordon for sponsoring the off campus tour.  Although the game has been a grass roots game to help find Native players for Haskell University, it was the first year to fly under the Native Re-vision banner (a 501(c)3 non-profit) and carry the name of the great Jim Thorpe. His son, Bill Thorpe, tossed the coin to begin the game while so many fans waited anxiously.
It was a hot steamy week of practice for the athletes under the blazing Texas sun. They seemed to adjust well after their first couple of workouts. The Gatorade and water was sucked down as if their lives depended on it, which of course did. The roster was very diverse. We had athletes from Washington to Mississippi. The Jim Thorpe Native All-Star Football game represented 25 tribes! The players had a lot of size and speed never seen before at this event. Big and athletic linemen executed conquering plays, as instructed by veteran coaches with numerous state wins on their resume', and by first time head coach Cody Wilson. Wilson coached the Blue Eagles and is the Defensive Coordinator for District Runner-up Zuni Thunderbirds of New Mexico.   Assistant coaches for the Blue Eagles were Micah Swimmer (aka Apocalypto) and Dave Brown.  Coaching the Red Hawks was Jim Sandusky (aka Sandman), 2010 State Champion Lummi Red Hawks of Washington.  Red Hawks Assistant coaches were John Harjo and Dee Cooper.  It was a tough battle with the Red Hawks smothering defense and explosive offense eventually wearing down a scrappy Blue Eagle's defense.
Choosing the MVP's of this game was made very difficult because all of the players performed as great warriors.  However, choices had to be made and the following individuals were recognized for outstanding achievement.  Leading the Red Hawks was Game MVP Dylan Parker, Quarterback, from Valliant, OK, and a member of the Choctaw Nation. The Red Hawks Offensive MVP was Eddie Williams, Running Back and Kicker, from Lummi and a member of the Lummi Tribe, Defensive MVP was Ryan Jackson, Lineman, from Rapid Central of the Sioux Tribe.   Blue Eagles Offensive MVP was Roger Beherns, Quarterback, from Caddo High School and another Choctaw, Defensive MVP was Dillon Martinez, Lineman from Window Rock of the Navajo Nation.  Choctaws from Oklahoma and Mississippi was very well represented by the number of athletes at this year's game. The game referees were also of Native decent from the Chickasaw Nation in Oklahoma. Camp started with a combine and draft on Monday. Throughout the week the athletes endured stringent practices. Wednesday, they enjoyed visiting the command center of Burlington Northern Santé' Fe headquarters in Ft. Worth, a global industry interested in Native interns. The trip was routed where they could drive by the Texas Motor Speedway. BNSF treated all to a hearty lunch while listening to speakers sharing career tips and life choices. The speakers represented BNSF, Jim Thorpe Football, and Native Re-vision. Later, athletes toured the incredible Cowboys Stadium in Arlington. They had a lot of fun going down on the field and taking pictures on the Cowboy star. Of course, many Cowboy haters were among the boys, but, they left very impressed by the house that Jerry built.
The kids worked very hard and were eagerly awaiting word on the color and style of their jerseys. Jerseys were delivered on Friday evening to the delight of the kids. The jerseys were facilitated by Dream Catcher Sports, a Native owned company. They were the best looking jerseys we have ever had for this game. Ha-Ho to Kenyatta Wright and Dream Catcher Sports. The score was Red Hawks 30 and Blue Eagles 16, but, the games were much closer than the score indicated. Overall, the experience was a success for our Native athletes: meeting the objectives of recognition, opening doors to career considerations, and impressing the kids with a sense of empowerment! The kids have been gracious in their comments about the game experience and are very excited. It was well put by Krystian Fragua, a defensive back from the Jemez/San Felipe Pueblo tribes for the Red Hawks, "I can't believe it's over already. I made so many friends from different parts of the country. I wish we could rewind and do it all over again. I had such a good time. It just went so fast." We had many comments from all the kids and it is very heartwarming. Sponsors and parents are calling us wanting to get details for next year's game and location. We wish all our athletes good luck in their next chapters of life.
We learned as much about them as they did about us. Our Facebook now has a lot more friends and we will stay in touch. Our sincere thanks to the coaches who gave so much of their time. We also thank the parents who supported their young sons to get to the game and give us their trust with these precious Native athletes who are our future. A big Ha-Ho to our volunteers: Josh Lucio, Kris Toppah, Jerrald Tate, DG Smalling, and our friends and families for their support. Stay tuned for more info on next year's game!