NASFC SPONSORSHIP ADVERTISING OPPORTUNITIES
If you're interested in getting involved in this super-charged and uplifting opportunity by taking on one of the sponsorships below, please let us know via email at frances@brenco-llc.com. Thank you so much for your time and consideration. (Sponsor must email their ad to Native ReVision at least 1 week prior to the NATIVE ALL-STAR FOOTBALL CLASSIC game)
ELITE NASFC PARTNER $7,000
ELITE GAME DAY PARTNER $5,000
​WHY SUPPORT NATIVE REVISION?
Native Revision has a strong presence and a solid reputation in the Native American community. If you've taken a look at our About Us page, you'll know the greater need and our mission. Now you have an opportunity to look at what part you are best suited to play in our quest.
As a corporate sponsor you will be included on all of our mailings, digital promotions, and signage at the Combine and the actual Football Classic.
YOUR OPPORTUNITY TO MAKE A LASTING DIFFERENCE ​IS ONLY LIMITED BY YOUR IMAGINATION.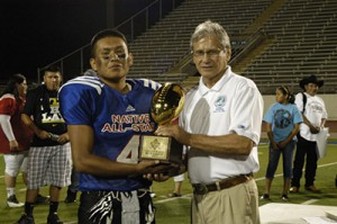 Blue Player with Award and Coach 1 According to the National Center for Educational Statistics, of the over 18 million students enrolled in college, over 65 percent are white, but a mere .09 percent are Native American. And the US Dept. of Education stats shine even a bit less bright at .07 percent.
Native ReVision was created to help change that.
T.S. Elliot spoke of not ceasing from exploration until we "return from where we started and know the place for the first time."
And the opportunity to provide a small window into what is possible is just that for so many… A chance for young Native American athletes to represent and honor their heritage, their tribe, and their past… while exposing them to opportunities for their future.
Native ReVision's Native American All-Star Football Classic is not only about these young athletes succeeding in football — but in life. By instilling values and the importance of education, respect, discipline and team work — these young people have an even better shot at being positive role models and strong leaders in their own lives, as well as within the Native American Community as a whole.
Native All-Star Players have an opportunity to:
Experience life on college campus
Learn about what it take to get into a good college
Develop leadership skills that will enhance their lives and the lives of others
HAVE FUN!
Join us in helping to increase the access to education and training beyond high school — help us honor the past, while celebrating the future…
Two opportunities to help…
EMPOWER us to develop ongoing education and enrich opportunities for Native American youth… OR
ENABLE more Native American athletes to share in the (making this up… Native Nation All Star Experience) experience…
​***I.E. one time donation (or sponsorship) vs ongoing (or, hopefully) monthly support***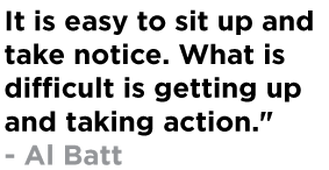 AN ONGOING AND HEARTY "THANK YOU" AND "HAHO" TO LAST YEAR'S GENEROUS NASFC SPONSORS…
A big Special thanks to University of Texas Arlington, the staff and the local volunteers that helped us put this game on. They made us feel very welcome and did a marvelous job of keeping up with us! Also to Tom Kloza and his staff at Maverick stadium. They took such great care of our kids and making sure they had everything we needed at all times. They could not have been more accommodating. A mighty big thanks to them!! To all our volunteer coaches, staff and volunteers. Thank you to the kids for allowing us to coach them in life as well as on the field.