THIS JULY, IT'S ALL ABOUT THE GAME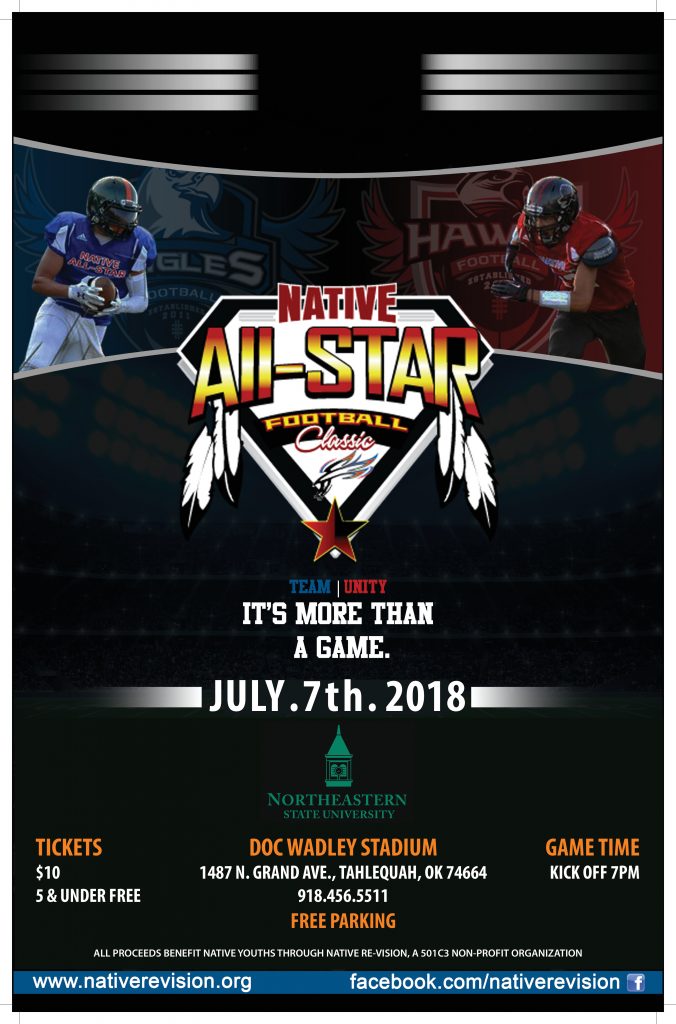 Location:
Doc Wadley Stadium
1487 N. Grand Ave.
Tahlequah, OK  74464
Mascot:  Rowdy the RiverHawk
Directions: CLICK HERE
One of the most effective ways we've found to live our mission is to hold a week-long football combine followed by The Native All-Star Football Classic. This life-changing camp and game were specifically created for Native American and Alaska Native high school football players along with Canadian Aboriginals who will graduate in 2018. Since 2002, this game has given young Native American men the honor to finish out their outstanding high school careers, many of whom go on to compete at the collegiate level while others begin new endeavors outside of football.High School seniors from tribes around the U.S. and Canada gather here in Arlington for 8 days of friendship, fun and football. The combine is seven days of hard work, eye-opening experiences, deep camaraderie, and fierce competition for each and every student who attends. This year the action runs non-stop from Sunday, July 1st through Friday, July 6th.Other than football, the participants meet and gain wisdom from highly successful Native Americans from various walks of life. It all culminates at 7:00 pm on Saturday, July 7th with a full blown gridiron battle between the Blue Eagles and the Red Hawks. Fans, family and friends from around the continent gather to cheer on their team and to applaud the hard work and achievement these guys demonstrate out on the field.
Having worked with these young men all these years we know the glory of the game isn't what they'll take home with them, though it will be a very sweet memory. They're most valuable take away from the Combine and the Classic is three-fold:
hope for a better tomorrow because of the insight to corporate world and others' successful lives
deep friendships that can last a lifetime and network
and a new perspective on their future encouraging inner-strength
If you're a prospective player, click here to download and fill out the player application today. It's due back to us by June 22nd, 2018. If you'd like to help us make a difference in the lives of these awesome young men, check out our Sponsorship page for a list of change-making opportunities.