FROM THE FOUNDER
The Native All-Star Football Classic (NASFC) is produced by Native ReVision, a 501(c)3 non-profit organization based out of Dallas, Texas. We are currently working toward next year's game. We are continually pushing the game into mainstream media. All Tribal members see the incredible display of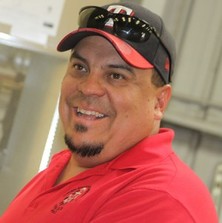 Native American athleticism that is branded the Native All-Star Football Classic.
National and local publications including Indian Country Today, Cheyenne Arapaho News, Navajo Times, the Dallas Morning News, are a few mediums announcing the NASFC. It is an honor and privilege to be the producer of the NASFC.
"We must educate our children about the new global society and ensure that our people and our culture are not left behind."
– Steve Cardwell
Read what one NAS has to say,
As some of you may know, I had the opportunity of participating in the Native Football All-Star Classic last week. It was a life changing experience. It was great to put the pads on again and learn about different cultures. I made some new friends, but more importantly I found new brothers. Huge thank you to Brenco Industrial for allowing us to meet together and play football one last time. Thank you for the life lessons that I will never forget. I want to thank Cameron Casteel and Lane Freeman for pushing me extremely hard this week, as well as the other coaches. Thank you to everyone who help put this together. I will never forget the memories. Go Red Hawks! – N. Casteel
Players are mentored to be warriors from the classroom to the field. They must provide for their families beyond their playing days. They must leave a positive footprint for youth that follow them. Supporting the Missing and Murdered Indigenous Women (M.M.I.W.) is another way to role-model a positive initiative.
Pictured above: Native All-Stars Andrew Sockey, Seth Allen, Notah McCabe, and Cherokee Bell showing their support for the fight for M.M.I.W. These athletes took the initiative themselves to raise the awareness at the NASFC.
To inspire new players and honor the memory of a fallen NASFC warrior, Native ReVision presents an Alex Battiest Award and Scholarship. It was created in 2012. Alex was a NAS player at the 2011 game in Denton, TX. He was diagnosed with germ cell cancer a few weeks after the game. He passed away January 2012. He was an inspiring Native youth. Not only was he athletically gifted, he was an outstanding college bound young man that we so desperately need in all our tribes. It was a great honor for me to personally to get to know this exceptional young man. He was a great example that we as parents and mentors try so hard to inspire the next generation of Native youth to become.
Each year I see smiles on the kids and see them bond with each other. It is some of the most rewarding experiences I witness. My heart soars with pride. It takes support from people just like you and the willingness of our volunteers donating their time to make it all happen.
Plan your next summer trip with the NASFC. Check www.nativefootball.org for updates. Show how much you care about Native youth by making an annual donation to Native ReVision and support the NASFC.
Ha-Ho!
Sincerely,
Steve Cardwell